Got in touch with Eyelet asking about the possibility of releasing the "S/T 2014" on tape, since I was listening to it a lot and they suggested to co-release the upcoming album "Nervewracker" instead. Thanks also to Fake Crab this co-release with additionally Dingleberry Records was possible and the record could be released both in the States and in Europe.
---
Listen here:
---
Eyelet are Craig, Matt and Robbie.
They are a Screamo band from Baltimore.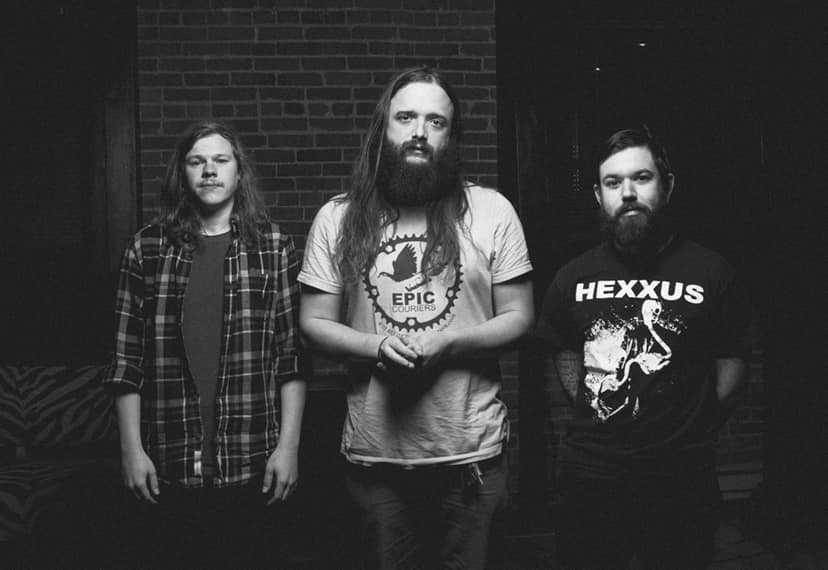 Pressing Info:
212 Black vinyl
45 Purple/Red vinyl (Eyelet exclusive) – sold out.
42 Turquoise/Green vinyl (Fake Crab exclusive) – sold out.
8 Yellow vinyl (Dingleberry exclusive) – sold out.
7 Orange vinyl (krimskramz exclusive) – sold out.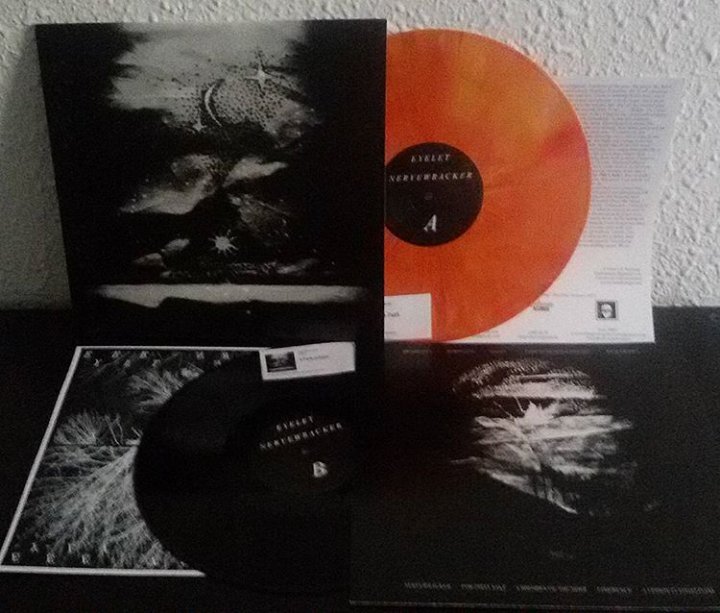 Product: Nervewracker 12″ LP
---
Track List with Lyrics:

Browbeaten
A voice so low the house hums in agreement
But it's not a voice
Not a voice of reason
A quartet of the pine, the glass, the brick, the spine
Almost tangible words and nearly tangible phrases lead way
to invisible scrapes and slowly healing abrasions
we're all choosing and loosing, we're all cruising for a bruising
we're all cruising for a bruising, we've all chosen and lost
There is nothing in this box
Just a head we're trapped in
Can you hear it?
Can you feel it cracking?

Worryguts
Funerals for empty caskets and a body count. Bury more weight than the years. I fight to add to a dead name. And I curse the ceremony that reminds me of all the wasted life. And all the wasted time. Erase, replace. Forget, just to maintain. There is no bravery. So wake up. All the wasted life. All the wasted time. Float……..

Solely
Do I look two decades old? I'm haunted by the number that is half of mine. Sworn to patience it will lay and wait- to be called by the clockwork of aging. When nervous system signals quake. All my nerves signal a pain. When my bones are so heavy- they are screaming "it has not stopped raining….." Your absence is everywhere……

Foolish Hearts Darkened
Just know they won't claw at the seam. Even though it seems like they're all trying. They won't. There's nothing worth opening you up for. I can tell by your look most nights you wonder how many more will be spent alone. With the way the days are you'd think the rest would come easy. Your first thoughts following sleep are. "I cannot do this." Through the fog you can't seem to find the glow and you cogitate that this won't change at all. You will wake knowing every day is exactly the same. And I will breathe you in. I'll know just how you feel without tying up in your shoes…..

Weak Frames
My body was trying to tell me something. Deep down a whimper of "enough is enough," escapes, but I swallow it down again. I am the fluke inside that holds this weak frame together. I am the urge you fight but can't quell forever. Died wild eyed beneath a misty gray sky. Visited only by a single lonesome fly. A death as poetic as a drunken stupor that led to a cracked skull in an empty hole. One last shower to cleanse a life of sin that clings close hidden, just beneath the skin- parasites we can feel crawling and wriggling. Try scratching, rubbing, and picking them with a shout. I used to think I was clever but now I know better.

Nervewracker
Just keep counting your blessings and lose them one by one. Heaven forbid or heaven foreboding- feeling a stinging in my nose before the tears start flowing. I am a scared child. An older face, older bones. A fall from grace with every groan. But we all still tremble when we face the unknown. Don't we? I do. Don't you? Every second, minute, hour, day. I can't help but feel- still panic stricken. Still petrified of the dark. Still taxed. Still burdened. Bathed in light….

For Pity's Sake
You shouldn't stand too tall- leaving yourself exposed. Those you've wronged still remember the ways in which you tortured them. You spent your whole life stepping on our necks. Did you think we would just forget? I hope for pity's sake the guilt consumes you before we do…..

Children Of Thunder
A moral compass- not lost, not forgotten. Only left useless, and bootless by the magnetic north that won't proof this- because you're right. I will be lost forever. I will fall without tether. I'll wander alone. Now I will never be home. Oh god, I am eliminated. Oh god. I am devastated. Oh god, broken and fallen. The soul, the soul, the soul. I give my support just as the rope supports the hanging man. Hating with all my heart- hating with all my head. I can't remember the last time I was ever completely honest with myself about the things I can't seem to come to terms with, and will most likely deflect. and if, IF there was ever a better time to regain direction, composure0 I would be sure to pass it by the wayside.

Limerence
I thought I saw in your eyes, the relief you were always looking for. Called to conscious and in conclusion, it was nothing at all. Pity aches and lonely shakes only get in if let in. A drive inside sustains and puts the paces in its place now. And I will make the claim- I am not too afraid to brave what might destroy me. Restless, anxious, stir crazed, and worn down. In the wrong as the relief I was always looking for.the one that pus the paces in its place now.

A Lesson In Loneliness
I feel it every sixty ticks of a minute. Forcing limbs to move in any given direction. No more. No more need to prose on repose. You'll be better off without, I know. One thing I need you to understand is every time I let myself be an open book I felt I became a little more spineless. If attraction's a killer, then you're the esca of the angler fish. It's best if we don't speak about this, so let's choke down responses both honest and caustic. God forbid someone might feel slighted . The eggshells we place on the floor leave us divided. If the truth came out… We're not drifting apart. We're imploding like stars. Your gravity drew me in and just as easily began crushing….

---
Nervewracker 12″ LP as released on December 18th 2015 by Fake Crab (US), Dingleberry (Germany) and Krimskramz (Spain).