After having been friends with Andrea for many years, when he was still playing in the hardcore band Minus Tree and having released the debut Split of Pastel and Merridew with our old label Shivery Productions it was a pleasure to release "L'Acchiappanuvole" a really interesting postpunk/emo/hardcore 12″ record. Since it's quite short for an LP, the b-side contains the same record as an instrumental version.

___________________________________________________________________


Listen here:
_________________________________________________________


Pastel are Andrea (drums, percussion and vocals) and Vito (guitar, bass and vocals).
They are from Bari, Italy.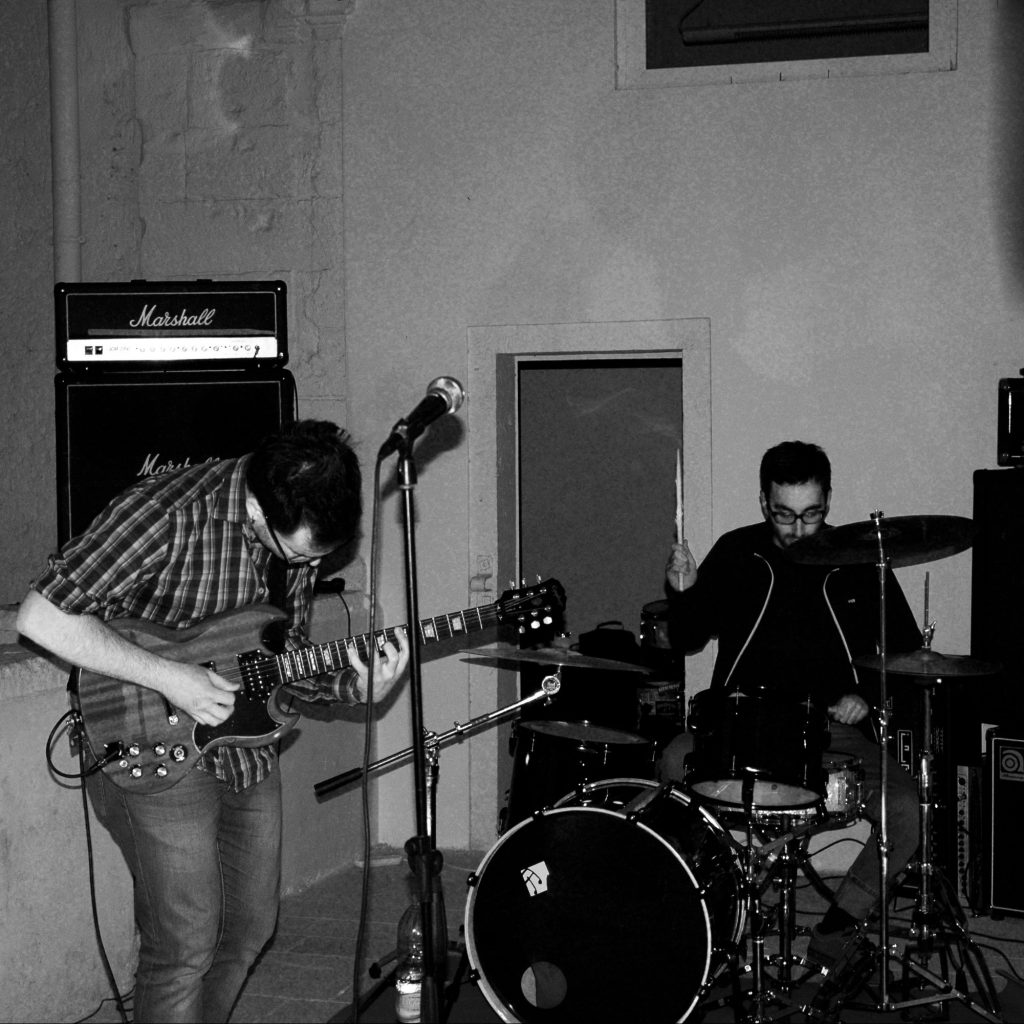 _____________________________________________________________________


Pressing Info:
White vinyl, limited to 300 copies.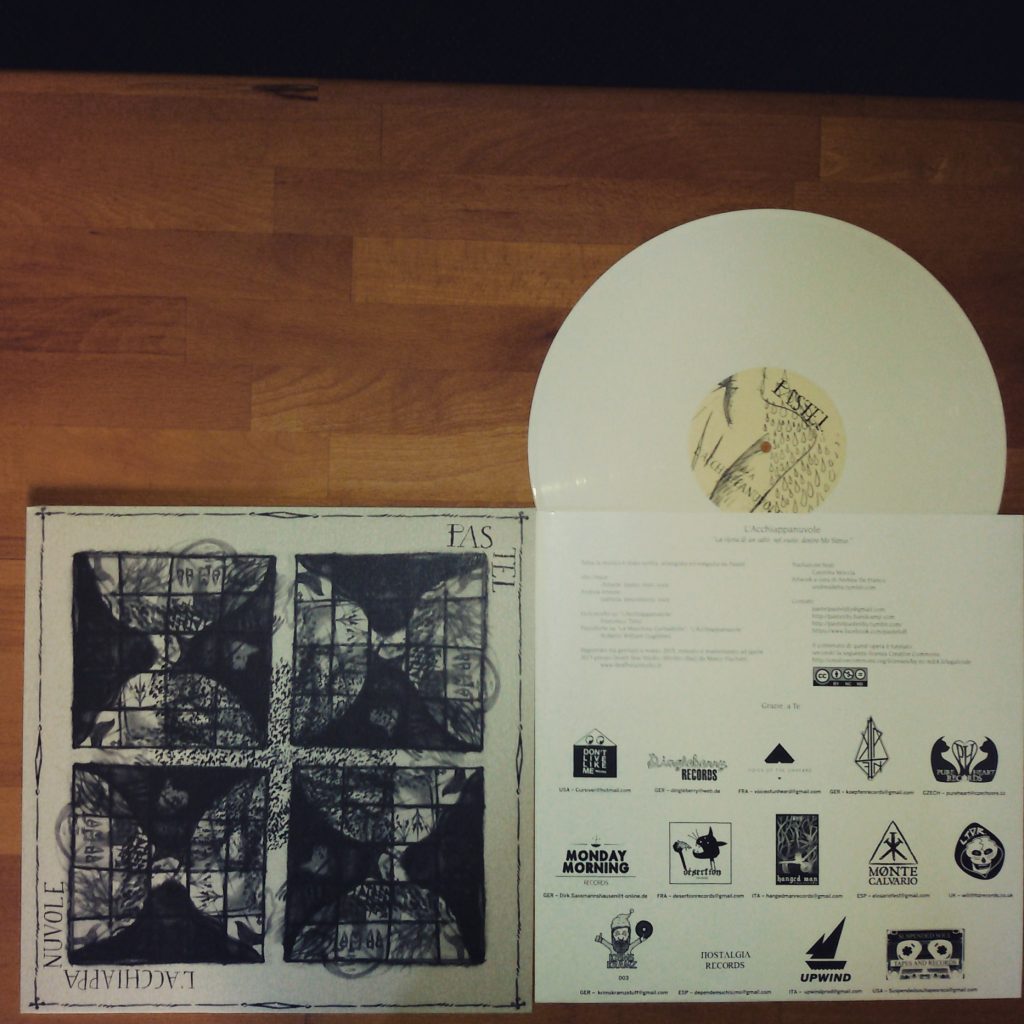 Product: L'Acchiappanuvole 12″ LP

_________________________________________________________________


Track List with lyrics:

Il Lancio Kàrmàn
Memorie solcano 
tempi già dettati 
Consapevolezza è illusione 
Riconoscere dolore, quando altrui non è 
Quanto ideale l'essere, possa essere umano? 
Sole converge traiettorie, 
in epoche lontane divergenti 
Epiteto lineare lasciato a galleggiare 
In cieli stranieri vissuti controvento.

Il Pendolo, L'Orologiaio
Inesauribile il fiume 
dell'invisibile sentirsi 
Universale il peso 
Inchiodato ed in espansione 
"Orizzonte che non volga mai al domani" 
…Osservo… 
Il buio far fiorire rocce dimenticate dalla polvere 
In agitate burrasche d'aurora boreale 
Particolari nascosti 
Ho ancora fiato per urlare 
"Orizzonte che non volga mai al domani"

La Scatola, Il Crocevia
Orme ricolme da tempo di pioggia 
attendere invano una luce 
Orme da tempo ricolme di pioggia 
Luci stanche di illuminare 
Divenire, eventuale 
Non necessario comprendere 
Il cosmico, diviene umano 
Quando è l'interno a tremare 
Divenire, eventuale 
Fin quando è concesso resistere.

Interlude I
– instrumental –

I Love You, Tempesta
Incidere sull'acqua il proprio nome 
per non dimenticare 
Illumina gabbie 
Cannibalismo e rinascite 
In interrotto dissolvere 
Minuscoli frammenti 
In tempesta di luce 
Deserti in espansione 
Inondano lande ormai desolate.

L'Alchimista
Triangolo non chiuso 
Tendente infinito 
Terra 
Vento 
Brandelli 
Corpo 
Trappole sommerse 
Scenari rassegnati 
Tasselli nel silenzio 
In eco lo sciamare 
Di pianeti ormai lontani 
Disordinato mosaico 
Madre, non è ancora guerra 
Antico tramonto in gocce 
stilla voragini 
Dove trovarci senza tempo 
A collidere elementi 
Ho sognato d'esser a casa

Interlude II
– instrumental –

La Macchina Cantastorie
– instrumental –

Il Ciclo Okta
Sacrificio cercare 
Diamanti nel fango 
Respira carbone 
Memoria Futura 
Futura nel pianto, 
Aria, Terra, Fuoco 
Lento affondare 
Terra rilascia paure, 
Paure segnate da linee.

L'Acchiappanuvole
Mani sfidano il Grande Sole 
Diviene, soltanto un timido tepore 
Modalità di esclusione: 
-"Ascrivere per terrore"
Eco di invisibili traiettorie 
Solcano l'Infinito 
Guardo ombre, dissolversi nel tempo 
Improvviso bagliore
Leggere dissonanze 
Ho modellato distanze 
Argilla della separazione
Improvviso bagliore 
Incolume, per semplice difesa 
Pagine bianche: -"non per questo vuote".

________________________________________________

L'Acchiappanuvole 12″ LP was released on July 1st 2015 by Pure heart records, Dèsertion records, Dingleberry records, LTD records, Suspended soul tapes & records, Hanged man records, Ronald records, Monte calvario, Glass of split, Nostalgia records, Voice of the unheard, Koepfen, Monday morning records, Don't live like me records, Fight or fight!, Upwind, Sciroppo dischi, Bookhouse records and Krimskramz.